Leah Hansen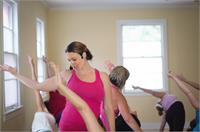 Baptiste Certified Instructor
E-RYT-200 Baptiste Methodology
RPYT Prenatal Vinyasa Yoga
Leah Hansen is a Certified Baptiste Teacher, and Co-Owner of Hot Spot Power Yoga, a Baptiste influenced yoga studio with two locations in Jacksonville Fl. Leah discovered Baptiste yoga in 2005. She immediately fell in love with the practice and the emotional release that she experienced as a result of the physical demands that the Baptiste methodology had to offer. Through the tools learned on her mat, Leah began to make significant transitions in her life in order to create a more fulfilling life.
Leah brings curiosity to her practice in what her body is capable of physically and in how she can see things from a different perspective in her life. This gives her a fresh point of view and a more playful and empowering space to work from. As a teacher Leah's intention is to inspire transformation in others, and to give them the tools to go out and LIVE BIG in their lives.
Leah holds her B.S. in Chemistry from the University of North Florida. She left her corporate career at Johnson & Johnson in 2013 to focus her energy on what she loves, Yoga. She works full time as an instructor, studio owner, wife and mother in Jacksonville FL.


Leah Hansen is currently not instructing any classes.