Maria O'Donnell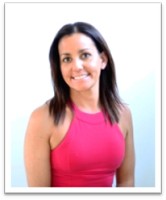 Maria O'Donnell RYT-200, MBody Yoga Teacher Certification Program Maria began her yoga practice in high school with her best friend whose father was an Ashtanga yoga teacher. Throughout college and her five years living in Southeast Asia, Maria continued to practice many different styles of yoga and found the introspection and reflection through the movement of body and breath to be incredibly healing. Maria was introduced to Mbody through a donation based class at a local studio lead by an Mbody teacher. Completely enthralled with the rhythm and flow of the class, she then found herself at her first heated ninety minute practice at Mbody's Neptune Beach studio. Maria knew she was at home with the sweat, spirit and energy of the studio and became a regular practitioner. Maria completed Mbody's Teacher Certification Program in October 2010 and is dedicated to her yoga practice, self-growth and development as a teacher and as a healthy balanced individual with a desire to give back to her community. Maria also works in early childhood education and social services and would like to connect the world of yoga and healing with people of all socioeconomic brackets; self-empowerment is something yoga offers and communities need. Maria has a strong interest in art, especially painting, traveling and is in the process of becoming certified in children's yoga.
Maria O'Donnell instructs the following:



Introduction to Baptiste Power Yoga Series. This is yoga designed for the beginner yogi!

San Marco

Studio Program is a 6 week series and meets Wednesday nights from 7-8:30 pm Beginning 8/2

Harbour Village

Studio Program is a 6 week series and meets Friday nights from 7-8:30 pm Beginning 8/4

Through this class you will learn the foundations of Baptiste Power Yoga. This will be a slow paced workshop to break down each pose in the Baptiste Series with modifications making each pose accessible to everybody regardless of physical strength, flexibility or body type. Through this workshop you will gain confidence in how to safely get in and out of each pose. You will not feel left behind as you will be in a room full of beginners and you have the opportunity to ask questions in a workshop setting. Learn the basic and then move forward into a committed practice giving yourself the gift of strength, awareness, presence and well being.

Program Cost: $85*

*All Access Membership must be active in order to enjoy All Access Membership pricing. Hot Spot Programs are non refundable and non transferable. In the event that you need to cancel your attendance, notification must be received within 48 hours-via email to leah@hotspotpoweryoga.com, and a refund to your Hot Spot Account will be applied and can be used towards future programs/class packages/retail at Hot Spot Power Yoga. In the event that the Program is cancelled participants will receive a full refund or a credit to their Hot Spot account.