Kintu Makanji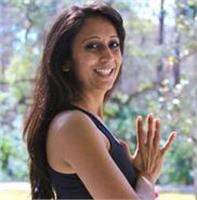 RYT-200, Baptiste Methodology
RYT-500
Kintu started a consistent Baptiste power yoga practice in the summer of 2007 with the hopes of gaining energy and loosing pregnancy weight. At first she found the practice extremely challenging, but the benefits she felt kept her committed to working through the resistance. For the first time in her life she felt a connection to her mind, body and heart. This connection grew in depth with every practice and training. She considers herself to be a lifelong student of yoga and is passionate about sharing the power of the practice.
Kintu holds a B.S. in Biology from the University of Central Florida and an RYT-500 Yoga Teacher Certification through Yoga Alliance. She is grateful to all her teachers she's had the privilege to study with including Baron Baptiste, Sarah Powers and Sadhguru.
Kintu Makanji instructs the following:
This class combines a 60 minute Baptiste Power Yoga class with an optional 30 minute meditation class.

The Baptiste Power Yoga class is heated in a 90 Degree heated room. The practice is a vinyasa style class to get your body moving and your heart rate up. The poses are challenging in a way that gets you out of your head and into your body. This class is the perfect start to a mindful meditation. This is a guided meditation with self inquiry and discussion at the end. The meditation is optional.




Detox Flow is a mix between a traditional Baptiste Power Yoga class and a more restorative class. It's a balanced class combining flow, total body integration, awakening and restoration to give an overall detox to both the body and to the mind. It's the perfect way to rinse out stress, and create a clear mental space to move forward from. The flow of this class has many different levels which allows for beginners, intermediate and advanced students to be challenged in the same class. This class is taught in a 90 Degree heated room to warm the muscles and increase detoxification of the body. (60 min.)




Slow down, relax, restore! This is a gentle and Meditative flow with emphasis on opening and restorative poses. It is mostly floor work to open up areas of the body that tend to be the most strained or tense. You will leave feeling more open physically, mentally and emotionally.




THE YIN EXPERIENCE: A STILL PRACTICE

Join us for a Yin Yoga Practice of long, deep holds. This series of poses in combination with deep breath will target the connective tissue for a deep muscular release. Through this practice you have the opportunity to leave any emotional, mental or physical tension behind you. You will leave your mat feeling lighter, more open, and more relaxed.

Open to all levels

Cost:
$15 Early Bird/All Access

$20 Day of Event

*Hot Spot Programs are non refundable and non transferable. In the event that you need to cancel your attendance, notification must be received within 48 hours-via email to leah@hotspotpoweryoga.com, and a refund to your Hot Spot Account will be applied and can be used towards future programs/class packages/retail at Hot Spot Power Yoga. In the event that the Program is cancelled participants will receive a full refund or a credit to their Hot Spot account.