Tracey Moore Lukkarila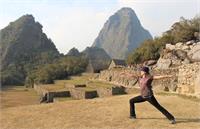 RYT-200, Baptiste Methodology
CHP
Tracey first discovered yoga at the gym. As a self proclaimed gym rat, she enjoyed yoga as a part of her gym routine, but she never really felt connected or hooked the way she had heard from avid yoga practitioners. At the recommendation of a friend she eventually made her way into a yoga studio offering Baptiste Yoga. Her first impression was that the class was brutal. It was too hot and she sweated way too much. She was sure that she would never return.But the things the instructor said about rinsing out and opening up kept coming back to her. She felt compelled to try again. From the second class onward she was hooked. She realized that the practice was not just about building strength and stretching her body, but also strengthening and stretching her mind.

As a teacher Tracey hopes to help others get grounded, clear their heads, and live in the present on and off the mat.

Tracey holds a bachelor's degree in Business Administration and a master's certificate in Public Health. She is passionate about animals and she volunteer with Animal Care and Protective Services (Jacksonville's city shelter). She rounds up feral cats for catch/neuter/release with her husband Troy. Tracey also enjoys craft, travel, hiking, camping, watching movies, reading, singing, and spending time with friends.
Tracey Moore Lukkarila instructs the following:
Mindful Flow is a mix between a traditional Baptiste Power Yoga class and a more meditative class. It's a slower vinyasa flow class focused on getting grounded and staying in the present moment. This class is taught in a lightly heated room to warm the muscles and keep focus on the body and mind. Each class features a different mindfulness technique you can use off the mat and ends with a 10-15 sivanasana or guided meditation. This class is heated to 85 Deg. (75 min)